Wholesale Ipe Decking
At IpeDeckingCo.com, we sell wholesale decking to anyone looking to purchase a truckload or shipping container of hardwood decking. Everything a builder needs to build a deck can be direct shipped from our mills in Brazil to your lumber yard or job site.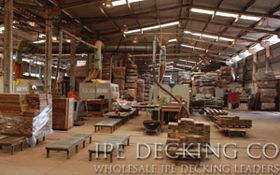 You can depend on our years of experience handling international imports and exports. This gives you the unique advantage of having a wholesale decking supplier who understands your needs and provides you with a dependable source for decking. Our wholesale decking service include:
Rapid quote response on all domestic and international requests
Custom orders fulfillment
Consistent and reliable U.S. inventory
Post-sale customer support
Local and overseas shipment monitoring
LACEY Act, FSC, and IBAMA compliance
Wholesale Decking Options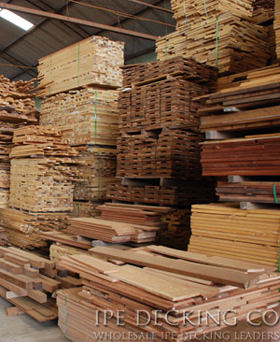 We specialize in Ipe decking as well as other durable materials like Tigerwood, Cumaru, and Garapa. When you place an order of wholesale Ipe decking, you get:
Premium grade decking
Material 8 times stronger than redwood and 3 times stronger than teak
Decking so durable it performs for over 75 years without having to be preserved or sealed
Termite, mold, and decay resistant
Decking that dries fast and is naturally slip and splinter resistant
Incentives
Premium grade lumber, a huge inventory, custom milling, and great service are nothing without solid and dependable pricing. If you need a full container or truckload of decking, call us. We offer daily specials in addition to shipping discounts to make working with our wholesale decking service easy and affordable.
International Wholesale Decking from Mill to Port
Are you a contractor in France? A home builder in Dubai? Or a developer in New Dehli? We send containers of hardwood decking to ports across the globe. Our expert staff is certified in U.S. Export controls by the U.S. Department of Commerce and the U.S. Bureau of Industry and Security. Let us help you take your project from blueprint to completion. Learn more about our International Wholesale Decking service.
Contact us online or over the phone from 8:30 AM to 5:00 PM EST, Monday through Friday.