Deck Railing Systems
Deck rail systems are the perfect way to have a multi-story deck, or stairway that matches your decking. At the Ipe Decking Company, we can custom mill any number of rails for your specific decking needs. We offer a wholesale rail systems that are easy to install and affordable.
The reason why our deck rail systems are the best in the industry is simple. With our handrail system, there are no visible screws. This means that there will be no surface holes or other blemishes that are unpleasing to the eye. Moreover, with the combination of proper maintenance and no visible screws, our deck handrail systems will be safe to use for years to come. 
Regardless of whether you are building a deck made out of ipe, garapa, tigerwood, cumaru, or any of the other hardwoods that we have in stock, a custom handrail system will make any deck look wonderful.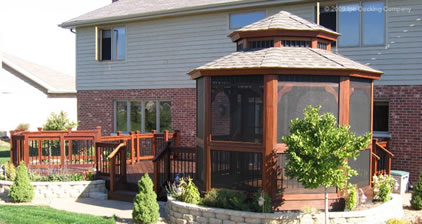 Custom Rail Systems
To order custom deck rail systems, contact the Ipe Decking Company today. It doesn't matter if your deck building project is ipe, tigerwood, garapa, cumaru, or any other kind of hardwood, we can easily match any decking material with custom milled wood rails. Don't forget to check out our other deck tools!