Sucupira Decking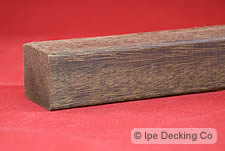 This exotic hardwood is available for purchase in lots of one container or more. Please contact us by calling the number above or using our wholesale quote page. Usually sucupira is used as decking, but we can mill it as flooring or to whatever custom specifications you have at our closest to you. all of our sucupira decking is kiln dried. Our kiln drying process is customized for each load of wood. the cellular structure, density and moisture levels of that particular batch are the criteria used when we determine the temperature and time we will dry the sucupira for. Sucupira is dried slower than most woods because of its high density and moisture level.
Sucupira Characteristics
Like the other exotic hardwoods we sell, sucupira decking is a very hardwood. This is beneficial because it resists wear and tear, is stronger, resistant wood eating insects and is more resistant to rot. Like all the other hardwood decking materials, you have to take care when cutting and drilling as it will dull normal bits and blades.
Sucupira is dark warm colored wood that looks great out doors. some people describe it's color as lustrous chocolate brown color, simi liar to the background color of this page.
Sucupira is primarily found in several countries in South America. We harvest ours in Brazil because of the dependability of quality and because the strict environmental laws in brazil guarantee sustainable forestry practices.
Some uses of sucupira besides decking:
Sucupira is primarily sold as deck material, but here's some other uses:

Boat building
Heavy construction work
Flooring
Turning blanks
Furniture components
Railroad crossties
Doors
Paneling